(Certain cover images may not match that shown)
$14.99
NZD
Category: Children
From the creators of The Night Gardener, comes a stunning new picture book about a young boy who sets sail to find a place his grandfather told him about... the spot where the ocean meets the sky. It's a good day for sailing. Finn lives by the sea and the sea lives by him. Every time he looks out his window it's a constant reminder of the stories his grandfather told him about the place where the ocean meets the sky. Where whales and jellyfish soar and birds and castles float. Finn's grandfather is gone now but Finn knows the perfect way to honor him. He'll build his own ship and sail out to find this magical place himself! And when he arrives, maybe, just maybe, he'll find something he didn't know he was looking for. ...Show more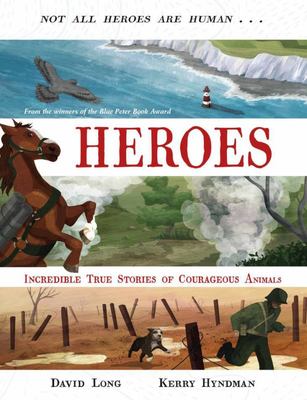 $22.99
NZD
Category: Children
For as long as there have been wars, animals have been out there saving lives. Courageous dogs, cats, birds, horses, and even a bear have shown courage and devotion, and this book tells you their extraordinary stories. Includes the story of Jet the Alsatian who became a hero of the Blitz, pulling survi vors from burning rubble, night after night. Gallipoli Murphy, the donkey who served as an ambulance. Simon, the cat who saved his crew. And many, many more. These animals help us to remember that not all heroes are human. Glorious full-colour double-page illustrations throughout. ...Show more
$19.99
NZD
Category: Children
Twas the night before Christmas, and all through the house, Not a creature was stirring, not even a mouse. Even though that mouse was curled up, fast asleep The pong from its butt made everyone weep. What a stinky Christmas! But who has done the biggest fart of all?
$19.99
NZD
Category: Children | Series: Thelma the Unicorn
Thelma the Unicorn didn't like being famous, so she fled the spotlight and disappeared . . . But the world was heartbroken! We miss our UNICORN! Thelma, its time to get your sparkle back on! The sequel to the million-selling Thelma the Unicorn from the New York Times bestselling author, Aaron Blabey. ...Show more
$19.99
NZD
Category: Children
Whitney and Britney are two gorgeous chooks, Fluffy and silky with stunning good looks.   Dora is perplexed about where her chooks go each night. Little does she know, they are Whitney and Britney, Chicken Divas!  
$27.99
NZD
Category: Children
Soar into space with this glorious love story of alien folk, from the creators of The Gruffalo and Stick Man. The Smeds (who are red) never mix with the Smoos (who are blue). So when a young Smed and Smoo fall in love, their families strongly disapprove. But peace is restored and love conquers all in t his happiest of love stories. There's even a gorgeous purple baby to celebrate! With fabulous rhymes and breathtaking illustrations, this book is literally out of this world! ...Show more
$21.99
NZD
Category: Children
A-choo, A-choo, A-choo! Oh no! Santa is stuck in the chimney! How will the boys and girls get their presents if hes stuck in there all night? Sing along to this hilarious Christmas song with singer Teo Gebert.
$19.99
NZD
Category: Children | Series: Where's Santa
Oh no! All the reindeer are sick, so Santa can't deliver his presents! Luckily, Santa's Elf, Digit, has invented Robodolph to fly the sleigh instead. The only problem is that Santa accidentally programs Robodolph to fly them to another galaxy! To get home, Santa must go through all the planets in the ga laxy-from the Snowglobe Planet to the Pudding Planet, and through Naughtilis and Nicelus-will Santa get back to Earth in time for Christmas? ...Show more

Rockin' Robin (PB)
by Jimmie Thomas; Jay Lag'aia (Performed by)
$21.99
NZD
Category: Children
Tweedle-lee-deedle-lee-dee, tweedle-lee-deedle-lee-dee, tweet, tweet, tweet tweet! Bop along to this classic hit, sung by Jay Lagaaia.
$18.99
NZD
Category: Children | Series: Wings of Fire
The New York Times bestselling series continues with a thrilling revelation -- brand-new tribes of dragons. Some secrets are deadly. It's no secret that Sundew wants to destroy the HiveWings. It's her life's mission to exact revenge on the tribe that tried to wipe out the LeafWings and ripped every tr ee from the surface of Pantala. Every tree, that is, except the wild and dangerous Poison Jungle, where the surviving LeafWings have been hiding since the war. Hiding, plotting, and waiting for a dragon like Sundew, who is uniquely qualified to bring down the Hives. There are dark secrets in the jungle, though-some that Sundew is keeping, and some that she's only just beginning to discover. And now that a new war is upon them, Sundew and her friends must unearth the oldest secret in the jungle-even if what they find has the power to destroy them all. ...Show more

$17.99
NZD
Category: Children
Can you go on a very serious adventure without giggling? The Giggle Pigs can't. However hard they try, they just keep bursting out laughing. But so would you if you had to canoe down a river of custard, tip-toe across the Secret Swamp of Burps, and find your way out of a Fog of Bottom Parps. Get ready for fun, silliness and LOTS of giggling in this hilariously imaginative piggy tale. ...Show more