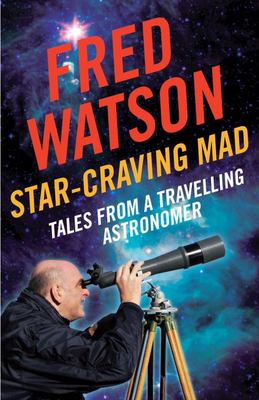 $28.99
NZD
Category: Popular Science
Fred Watson knows all about the madness that drives people to understand the Universe and unlock its secrets.Now you can join Australia's best-known astronomer on a unique tour to unravel the mysteries of space and time. Take in primitive observatories in ancient Peru and the world's largest atom-smashe r in modern-day Switzerland. See Pluto demoted from planetary status. Go behind headlines to find the truth about the Transit of Venus and the Higgs Boson. Meet some of science's most colourful characters.In this light-hearted, informative and engaging book, Fred travels to some of those far-flung destinations as he weaves the epic story of humankind's growing understanding of the Universe. It's a grand adventure and the Professor is a witty, funny and knowledgeable companion. Come along on a journey that is sure to take you out of this world... ...Show more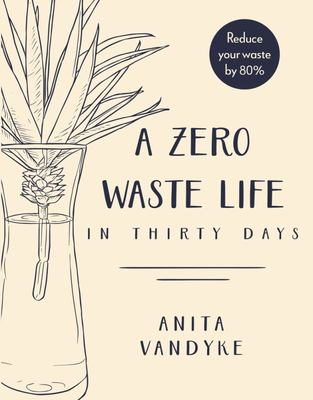 $24.00
NZD
Category: Popular Science
Anita Vandyke wants to show you that by living zero waste, you actually gain more - more time, more money and more life.A Zero Waste Lifeis the ultimate guide to radically reducing your waste, without losing your lifestyle. In her thirty-day challenge, Anita provides you with the rules, tips and tricks you need to eliminate plastic and live a cleaner, kinder life.This practical book is a call to action with a fresh 'can do? approach. Over thirty days you will learn how to make sustainable, ethical choices when it comes to shopping, eating, travel, beauty and so much more. Small changes can make a big difference, and by following these easy, creative steps we can all do more to save our world. These are the inside tips of a waste warrior and former engineer, whose life has changed from excess to eco-luxe. Isn?t that what we all want - a life of happiness, a life of luxury, a life that isn?t wasted? ...Show more
$44.99
NZD
Category: Popular Science
From the Big Bang to the Gaia Mission, this is a very personal history of the universe through the author's favourite 100 stars. Astronomer Florian Freistetter has chosen 100 stars that have almost nothing in common. Some are bright and famous, some shine so feebly you need a huge telescope. There are big stars, small stars, nearby stars and faraway stars. Some died a while ago, others have not even yet come into being. Collectively they tell the story of the whole world, according to Freistetter. There is Algol, for example, the Demon Star, whose strange behaviour has long caused people sleepless nights. And Gamma Draconis, from which we know that the earth rotates around its own axis. There is also the star sequence 61 Cygni, which revealed the size of the cosmos to us. Then there are certain stars used by astronomers to search for extra-terrestrial life, to explore interstellar space travel, or to explain why the dinosaurs became extinct. In 100 short, fascinating and entertaining chapters, Freistetter not only reveals the past and future of the cosmos, but also the story of the people who have tried to understand the world in which we live. ...Show more
$32.99
NZD
$37.99
(13% off)
Category: Popular Science
Two weeks before his death, Oliver Sacks outlined the contents of The River of Consciousness, the last book he would oversee. The bestselling author of On the Move, Musicophilia, and The Man Who Mistook His Wife for a Hat, Sacks is known for his illuminating case histories about people living with neuro logical conditions at the far borderlands of human experience. But his grasp of science was not restricted to neuroscience or medicine; he was fascinated by the issues, ideas and questions of all the sciences. That wide-ranging expertise and passion informs the perspective of this book, in which he interrogates the nature not only of human experience but of all life.In The River of Consciousness, Dr. Sacks takes on evolution, botany, chemistry, medicine, neuroscience and the arts, and calls upon his great scientific and creative heroes - above all, Darwin, Freud and William James. For Sacks, these thinkers were constant companions from an early age; the questions they explored - the meaning of evolution, the roots of creativity and the nature of consciousness - lie at the heart of science and of this book.The River of Consciousness demonstrates Sacks's unparalleled ability to make unexpected connections, his sheer joy in knowledge and his unceasing, timeless endeavour to understand what makes us human. ...Show more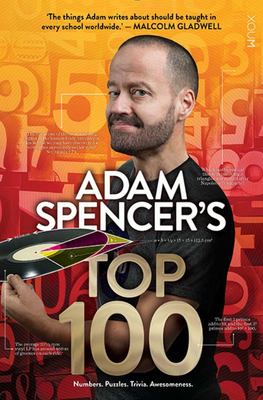 $29.99
NZD
Category: Popular Science
Australia's funniest mathematician is back in 2019 with a small format edition of 2018's bestseller. Which number terrifies Ogdokontaheptaphobes? Why would you watch the same clock for 14 years? And have you met the 23-million-digit prime? The answers to all of these questions - and much, much more - ar e in Adam Spencer's Top 100. Bursting at the seams with puzzles, quizzes, games, numerical trivia and fun, this is the ultimate book for maths nerds and anyone with an inquiring mind. Whether you're 8 or 80, strap your thinking cap on, grab a pencil and get ready to count down from 100 to 1 with Australia's favourite - and funniest - mathematician, Adam Spencer. Praise for Adam Spencer 'The things Adam Spencer writes about should be taught in every school worldwide.' Malcolm Gladwell, author of The Tipping Point, Blink and Outliers 'Even the page numbers will start to look fascinating once you've read this book!' Amanda Keller 'Every bright young mind in Australia should read Adam Spencer's Big Book of Numbers - and we oldies would benefit, too.' Peter FitzSimons ...Show more
$30.00
NZD
Category: Popular Science | Reading Level: near fine
#1 New York Times Bestseller From a renowned historian comes a groundbreaking narrative of humanity's creation and evolution--a #1 international bestseller--that explores the ways in which biology and history have defined us and enhanced our understanding of what it means to be "human." One hundred thou sand years ago, at least six different species of humans inhabited Earth. Yet today there is only one--homo sapiens. What happened to the others? And what may happen to us? Most books about the history of humanity pursue either a historical or a biological approach, but Dr. Yuval Noah Harari breaks the mold with this highly original book that begins about 70,000 years ago with the appearance of modern cognition. From examining the role evolving humans have played in the global ecosystem to charting the rise of empires, Sapiens integrates history and science to reconsider accepted narratives, connect past developments with contemporary concerns, and examine specific events within the context of larger ideas. Dr. Harari also compels us to look ahead, because over the last few decades humans have begun to bend laws of natural selection that have governed life for the past four billion years. We are acquiring the ability to design not only the world around us, but also ourselves. Where is this leading us, and what do we want to become? Featuring 27 photographs, 6 maps, and 25 illustrations/diagrams, this provocative and insightful work is sure to spark debate and is essential reading for aficionados of Jared Diamond, James Gleick, Matt Ridley, Robert Wright, and Sharon Moalem. ...Show more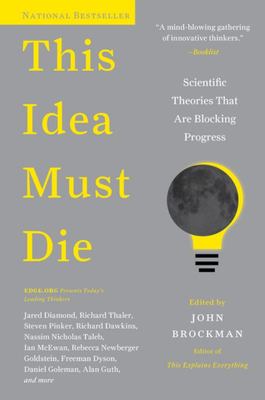 $24.99
NZD
Category: Popular Science | Series: Edge Question Series
The bestselling editor of This Explains Everything brings together 175 of the world's most brilliant minds to tackle Edge.org's 2014 question: What scientific idea has become a relic blocking human progress? Each year, John Brockman, publisher of Edge.org—"The world's smartest website" (The Guardian)—c hallenges some of the world's greatest scientists, artists, and philosophers to answer a provocative question crucial to our time. In 2014 he asked 175 brilliant minds to ponder: What scientific idea needs to be put aside in order to make room for new ideas to advance? The answers are as surprising as they are illuminating. In : Steven Pinker dismantles the working theory of human behavior Richard Dawkins renounces essentialism Sherry Turkle reevaluates our expectations of artificial intelligence Geoffrey West challenges the concept of a "Theory of Everything" Andrei Linde suggests that our universe and its laws may not be as unique as we think Martin Rees explains why scientific understanding is a limitless goal Nina Jablonski argues to rid ourselves of the concept of race Alan Guth rethinks the origins of the universe Hans Ulrich Obrist warns against glorifying unlimited economic growth and much more. Profound, engaging, thoughtful, and groundbreaking, This Idea Must Die will change your perceptions and understanding of our world today . . . and tomorrow. ...Show more
$24.99
NZD
Category: Popular Science
Ten years on from first publication, a new edition of this invaluable and entertaining guide that shows just what effect everything has on carbon emissions, from a Google search to a plastic bag, from a flight to a volcano.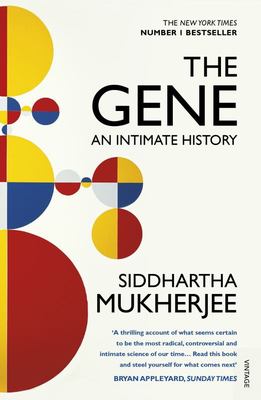 $30.00
NZD
Category: Popular Science | Reading Level: very good
This book was selected as a New York Times Non-Fiction Book of the Year. The New York Times Number one Bestseller BBC Radio 4 Book of the Week. "Dramatic and precise...[A] thrilling and comprehensive account of what seems certain to be the most radical, controversial and, to borrow from the subtitle, in timate science of our time...He is a natural storyteller...A page-turner...Read this book and steel yourself for what comes next." (Bryan Appleyard, Sunday Times). The Gene is the story of one of the most powerful and dangerous ideas in our history, from bestselling, prize-winning author Siddhartha Mukherjee. Spanning the globe and several centuries, The Gene is the story of the quest to decipher the master-code that makes and defines humans, that governs our form and function. This is an epic, moving history of a scientific idea coming to life, by the author of The Emperor of All Maladies. But woven through The Gene, like a red line, is also an intimate history - the story of Mukherjee's own family and its recurring pattern of mental illness, reminding us that genetics is vitally relevant to everyday lives. These concerns reverberate even more urgently today as we learn to "read" and "write" the human genome - unleashing the potential to change the fates and identities of our children. The story of the gene begins in an obscure Augustinian abbey in Moravia in 1856 where a monk stumbles on the idea of a 'unit of heredity'. It intersects with Darwin's theory of evolution, and collides with the horrors of Nazi eugenics in the 1940s. The gene transforms post-war biology. It reorganizes our understanding of sexuality, temperament, choice and free will. This is a story driven by human ingenuity and obsessive minds - from Charles Darwin and Gregor Mendel to Francis Crick, James Watson and Rosalind Franklin, and the thousands of scientists still working to understand the code of codes. Majestic in its ambition, and unflinching in its honesty, The Gene gives us a definitive account of the fundamental unit of heredity - and a vision of both humanity's past and future. ...Show more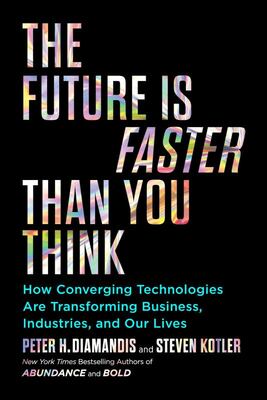 $35.00
NZD
Category: Popular Science | Series: Exponential Technology Series
During the next decade, we will experience more disruption and create more wealth than we have in the past hundred years. In this insightful and gripping blueprint for our near future, bestselling authors and futurists Peter Diamandis and Steven Kotler investigate how wave after wave of exponentially ac celerating technologies will impact both our daily lives and society as a whole. What happens as AI, robotics, virtual reality, digital biology, and sensors crash into 3D printing, blockchain, and global gigabit networks? How will these convergences transform today's legacy industries? What will happen to the way we raise our kids, govern our nations, and care for our planet? Space entrepreneur-turned-innovation pioneer Peter H. Diamandis and bestselling author and peak performance expert Steven Kotler probe the science of technological convergence and how it will reinvent every part of our lives--transportation, retail, advertising, education, health, entertainment, food, and finance--taking humanity into uncharted territories and reimagining the world as we know it. As indispensable as it is gripping, The Future is Faster Than You Think provides a prescient look at our impending future. ...Show more
$34.99
NZD
Category: Popular Science
From the No. 1 bestselling author of What If? - the man who created xkcd and explained the laws of science with cartoons - comes a series of brilliantly simple diagrams ('blueprints' if you want to be complicated about it) that show how important things work: from the nuclear bomb to the biro. It's goo d to know what the parts of a thing are called, but it's much more interesting to know what they do. Richard Feynman once said that if you can't explain something to a first-year student, you don't really get it. In Thing Explainer, Randall Munroe takes a quantum leap past this: he explains things using only drawings and a vocabulary of just our 1,000 (or the ten hundred) most common words. Many of the things we use every day - like our food-heating radio boxes ('microwaves'), our very tall roads ('bridges'), and our computer rooms ('datacentres') - are strange to us. So are the other worlds around our sun (the solar system), the big flat rocks we live on (tectonic plates), and even the stuff inside us (cells). Where do these things come from? How do they work? What do they look like if you open them up? And what would happen if we heated them up, cooled them down, pointed them in a different direction, or pressed this button? In Thing Explainer, Munroe gives us the answers to these questions and many, many more. Funny, interesting, and always understandable, this book is for anyone -- age 5 to 105 -- who has ever wondered how things work, and why. ...Show more
$30.00
NZD
Category: Popular Science | Series: Patterns of Life Ser.
Read this specially designed new edition of Jared Diamond's Pulitzer-prize winning exploration of what makes us human. Why has human history unfolded so differently across the globe? In this Pulitzer Prize-winning book, Jared Diamond puts the case that geography and biogeography, not race, moulded the c ontrasting fates of Europeans, Asians, Native Americans, sub-Saharan Africans, and aboriginal Australians. An ambitious synthesis of history, biology, ecology and linguistics, Guns, Germs and Steel remains a groundbreaking and humane work of popular science. PATTERNS OF LIFE- SPECIAL EDITIONS OF GROUNDBREAKING SCIENCE BOOKS ...Show more