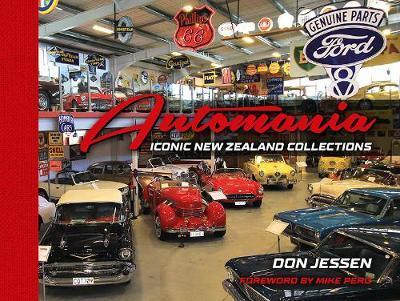 $34.99
NZD
$49.99
(30% off)
Category: Automotive & Transport
Visit the most incredible motor vehicle collections from across New Zealand, rarely ever showcased for the public before. From vintage cars to motorbikes, military vehicles to famous movie cars - the owners of these collections take us inside their garages to celebrate the vehicles that have captured th eir imaginations. These vehicles have intriguing histories, with some guaranteed to bring back fond memories of bygone eras, and others we could only dream of owning. Many have been painstakingly restored by the owner, or totally built from scratch. Discover the beloved vehicles that have inspired exceptional cases of Automania! ...Show more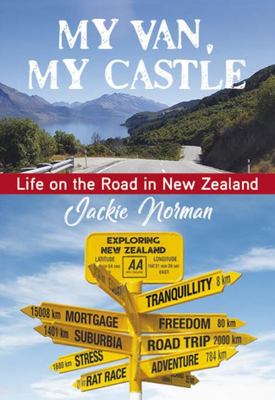 $34.99
NZD
Category: Automotive & Transport
Jackie Norman met her soul mate, sold her suburban home and swapped it for life on the road travelling round NZ in a campervan, despite never having any experience of the lifestyle before. Her aim was to swap a stressful life servicing a crippling mortgage with a more carefree lifestyle, stripped back t o essentials, living in the moment and exploring New Zealand. With no schedule and no real goals and after nearly two years on the road Jackie and her husband Gareth have learnt a lot about the highs and lows of a nomadic life. She writes with humour and insight about their adventures on the road and the lessons they've learnt along the way with anecdotes, tips, suggestions and favourite spots they've been on their travels from the tip of the North Island to Bluff in the South. We learn about the day-to-day reality and challenges of life on the road, top campsites, special spots, how to cope with mozzies and the dreaded condensation, and what the traveller community is really like. ...Show more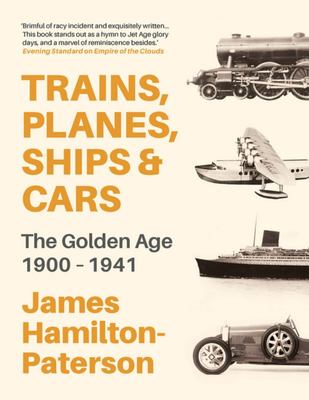 $69.99
NZD
Category: Automotive & Transport
A lavishly illustrated celebration of the golden age of aircraft, cars, ships and locomotives from 1900 to 1941 by the author of the bestselling Empire of the Clouds. This dazzling book describes the flourishing of transport and travel, and the engineering that made it possible, in the years before the Second World War. It is a homage to the great vehicles and their mechanisms, their cultural impact and the social change they enabled. James Hamilton-Patersonexplores the pinnacle of the steam engine, the advent and glory days of the luxury motorcar and the monster vehicles used in land speed records, the marvellous fast ocean liners and the excitement and beauty of increasingly aerodynamic forms of passenger aircraft. These were the days when for most people long-distance travel was a dream, and the dream-like glamour of these machines has never been surpassed. Hamilton-Paterson has an unrivalled ability to write evocatively about engineering and design in their historical context, and in this book he brings a vanished era to life. ...Show more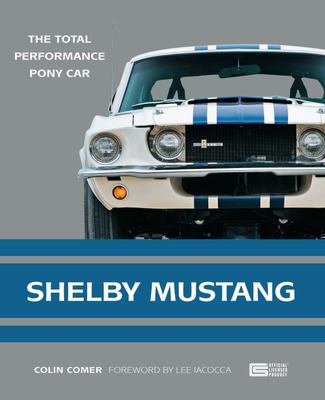 Shelby Mustang
by Colin Comer; Lee Iacocca (Foreword by)
$45.00
NZD
Category: Automotive & Transport
Shelby Mustang details the entire story of these fantastic cars, from the early prototypes built in Shelby's Los Angeles shop to today's Ford-engineered high-tech performers. Written by one of the world's foremost authorities on Shelby automobiles, critically acclaimed author Colin Comer, and with a for eword by Lee Iacocca, the American automobile executive credited with the successful development of the Mustang, this is the definitive account of the Shelby. When Ford wanted to toughen up its super-successful new Mustang, they approached Carroll Shelby to give it the performance image it so sorely lacked. Beginning with a 1965 "K-Code" 289-cubic-inch-powered Mustang fastback, Shelby applied the same formula that had made his Cobra sports cars such devastating performers both on and off the track: more horsepower, less weight, balanced handling. The GT350 quickly established itself as a bonafide force in SCCA B-Production racing, twisting back roads, and boulevards alike--setting the course for future Shelby Mustangs, like the big-block GT500. Though those original Shelby Mustangs were done by 1970, Ford dusted off its Shelby relationship in 2006 and has been producing high-performance Ford Mustang Shelbys ever since. This is a must-have read for any fan of American performance cars, whether you're a muscle-era original or a 21st-century stormer. ...Show more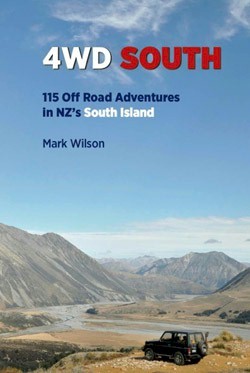 $60.00
NZD
Category: Automotive & Transport
Brings together in one book the best routes the South has to offer, resurveyed and updated. At 4wdsouth.co.nz you can download full-colour, 1:250,000-scale maps. These are designed to be read in conjunction with the book's route notes.
$49.99
NZD
Category: Automotive & Transport
If ever there was a definitive historical book about the iconic Ford Motor vehicle in New Zealand, this is it! FORD IN NEW ZEALAND is a magnificently researched history of the introduction of the Ford brand in New Zealand. An incredible microscopic view of the beurocracy of the government and the genera l public's `hesitancy' of the introduction of the `automobile' in New Zealand Rich in information, the book describes the assembly of the first Model T Ford in Canada and the shipment of the vehicles to New Zealand. Incredibly, New Zealand soon became the second largest export market for Ford Canada! The book details the evolution in New Zealand, from the late 19th century to the `horseless carriage' of 1904, when the first Ford came to New Zealand, including never seen before photography of New Zealand's first `Ford' owner - Robert Thompson and his `Fordmobile'. This introduction of the automobile necessitated the first Ford Agents in New Zealand to be appointed and road rules had to be made about these `contraptions'! Why was the Ford Motor car so appealing in the New Zealand environment? The book describes the relationship between `the average kiwi' and Ford, including the first NZ motor review of the car (1909). Lovers of motor cars, Ford enthusiasts and historians will find this incredible book a `must have' for a trip down the `gasoline alley' of New Zealand's yesteryears! ...Show more
$24.99
NZD
Category: Automotive & Transport | Series: My Cool Ser.
Motorcycle riders today have an increasingly sophisticated and more specialised range of bikes to choose from but interest in classic bikes has also influenced the design of these new machines. Looking back across the 100 years or so of the motorcycle, my cool motorcycle features over 60 stylish bikes o f all shapes and sizes along with a cross-section of passionate owners and their personal stories. Many of these iconic bikes have been customised with unique styling and the high-quality, stylish photography illustrates a plethora of bike detailing covering signage, gauges, dials and bike typography. The book also includes details of extraordinary intercontinental journeys, bike culture, early examples of powered bicycles used in the First World War through sidecars for carrying the family to cutting edge, 21st century design capable of speeds over 150mph, bike collectors, iconic legends of motorcycle racing, and a look at different uses for motorcycles. ...Show more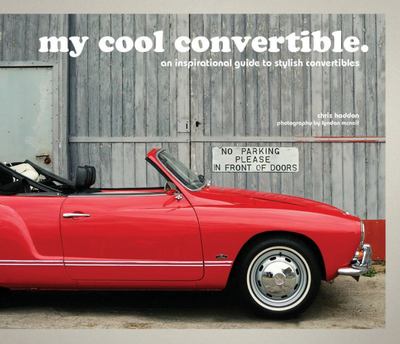 $29.99
NZD
Category: Automotive & Transport
This latest title in the highly successful 'my cool' vehicle series covers the world of open top motoring. Cruising in a convertible car with the top down started out as an American summer tradition and for many drivers around the world there is nothing better than driving down a country lane with the r oof down, the wind sweeping your hair and the sun beating on your neck. The book includes a broad mix of 'cool' convertibles, and their owners, from vintage to classic and modern, with eye-catching photography and locations, captured by specialist car photographer Lyndon McNeil. Convertible cars come in all shapes and sizes from compact city cabriolets such as the Talbot Samba to roadsters such as the Lotus Elan Sprint and grand tourers such as the Aston Martin DB6. Every one of them enjoys a sense of open-air freedom and greater involvement in the driving experience. Think sun, wind and speed. In many ways, the convertible car is the ultimate expression of automotive indulgence. A car with a roof is sensible but a car without a roof is sexy, scintillating and, given the chance, most of us would pay through the nose to own one. From the timeless designs of early models (Lagonda, Rolls Royce Phantom II Continental, Frazer Nash BMW and the MG) to the mid century cars (Nash Metropolitan, Land Rover, Bristol and Renault Caravelle) and the retro/modern (Saab 900, Honda S800, Peugeot 304, VW Golf, Mercedes 380SL and Porsche 914), convertibles are among the most popular and desirable of cars. The convertible has gone through extreme highs and lows during more than a century of automotive history, from near ubiquity at the dawn of the car industry to nearly disappearing in the 1970s; and now once again being a highly popular type of car. The cars featured illustrate the highs and the lows of convertible design and show how convertible technology advanced from simple cloth tops (the 1931 Rolls Royce Phantom II Continental is an early example) to the advanced self-folding roofs of today and many other design features. Some of the most stylish marques are included: the most expensive in the book is the Frazer Nash BMW and the rarest the Fiat 1100 Barchetta. Word Count 25,000 ...Show more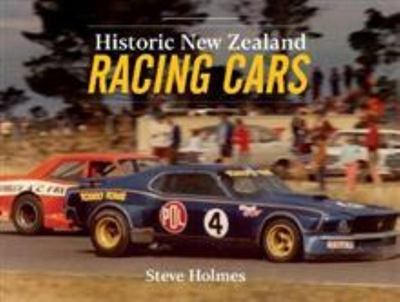 $39.99
NZD
Category: Automotive & Transport
From the sleek futuristic McLaren M8A to the missile-shaped RA Vanguard, these are New Zealand's Historic Racing Cars in all their full-colour, tire-burning glory! Historic New Zealand Racing Cars reveals the fascinating histories of eighteen cars whose stories are intertwined with our motoring history. Author Steve Holmes delves into the origins of each vehicle - from design, to racing achievements, and their fate thereafter. Each car is highlighted with a wealth of eye-catching photography. Featuring such racing greats as the mighty 1968 McLaren M8A Can-Am, through to the grass-roots domestic Specials. Single seaters, sports cars, and saloons are all profiled, with cars from the 1940s to the 1980s. Cars that were designed and built locally, to others of international origin, combined they represent a golden era of New Zealand motor racing history. ...Show more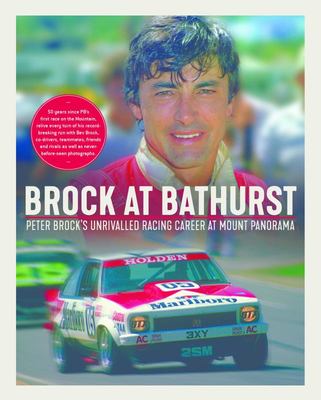 $44.99
NZD
Category: Automotive & Transport
No driver is as connected to a single track as the legendary Peter Brock is to Bathurst. Half a century ago, a shy and bearded Brock first took on Mount Panorama, the track he was destined to dominate with a record nine wins, earning him the mantle 'King of the Mountain'. That uncanny relationship bet ween driver and track is the focus of this book, a 360-degree look at every race of Brock's glorious Bathurst career. Relive Peter Perfect's reign over the Mountain in the company of Bev Brock, his partner of nearly three decades, as well as mechanics, teammates, rivals and friends who witnessed his genius up close. Featuring over 150 images, including previously unseen photographs from Brock's private collection, Brock at Bathurst is a nostalgic and exhilarating celebration of an iconic pairing in Australian sport. ...Show more
$42.99
NZD
Category: Automotive & Transport
SINCE 1981, Street Machine has been the bible of Australia's modified car scene, celebrating the best builds of the sport and the fanatics that create them. For this, Street Machine's first book, we've chosen 60 of the best-loved feature cars to appear in the magazine during its first 20 years. We look at the significance of each build to the scene and, where possible, discover what has become of the cars and their dedicated owners. Street Machine Legends Volume 1 is an indispensable collector's item and reference tool for the muscle car enthusiast. ...Show more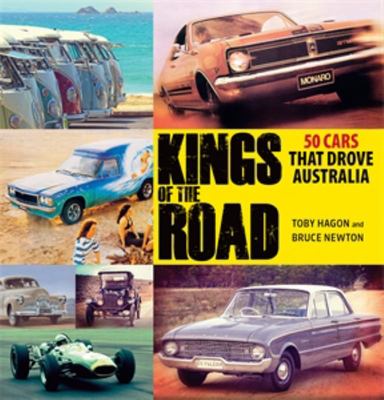 $49.99
NZD
$60.00
(16% off)
Category: Automotive & Transport
Meet the Kings of the Road. These are the cars that drove Australia - the greatest, bravest, most iconic and inspired vehicles in our history.Every one of them has a story to tell. From the first car manufactured in Australia to the 'beast' that started the feud between Holden and Ford. The first car to cross the Simpson Desert and a 12-tonne Bushmaster that carried our soldiers into war. The 'Kangaroo Chaser' inspired by a farmer's wife and named by Henry Ford himself. And the fastest, most powerful Aussie car of all.Big rigs and pocket battleships. Tough cars for country roads. Versatile rides for city living. Road warriors and street machines. Tanks and trailblazers. Painted wagons and dream chariots. Super utes and concept cars. Legends of the track and even a few loveable lemons. These cars revved the engines, captured the hearts and carried the dreams of Australians.All hail the Kings of the Road! ...Show more