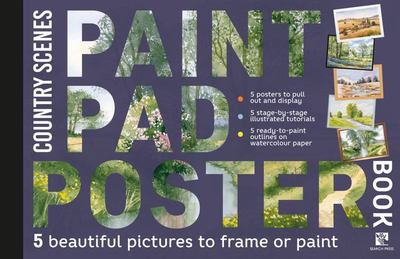 $19.99
NZD
$39.99
(50% off)
Category: Crafts & Hobbies
Whether a complete beginner, colorist looking for a new challenge or budding artist this oversized (11x17") step-by-step guide with pull-out pre-drawn watercolor paper and posters will have you producing great art to amaze yourself and your friends alike.   Have you always wanted to paint but think yo u don't have the skills or the time? Think again and paint side-by-side award-winning artist's work and create beautiful large painting of your own. This innovative new series gives you 5 beautiful (11x17") posters to pull out and frame, along with the ready-to-paint watercolour outline and illustrated stage-by-stage instructions you need to paint each artwork for yourself.   In this title, choose from paintings by celebrated artists Terry Harrison, Geoff Kersey and Keith Fenwick, and paint a range of seasons and inspiring country landscapes. Journey to a tranquil New Forest stream, a rolling Tuscan hillside and a snowy mountain river, and enjoy a masterclass in landscape painting. The large, landscape format of the book allows each stage to be clearly and comprehensively explained with an innovative annotation approach.   Follow the large, clear step-by-step instructions included for each flower, breaking down how to paint each section into manageable parts. Enjoy the freedom of pulling out these pages too, which you can then pin your work surface, for an even more effortless adventure.   With finished artwork, step-by-step instructions and ready to paint outlines let this innovative title lead you into producing beautiful, frameable watercolor landscapes to amaze you and your friends. Guaranteed. ...Show more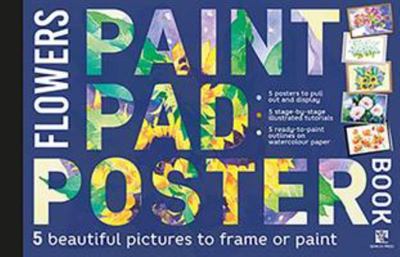 $19.99
NZD
$39.99
(50% off)
Category: Crafts & Hobbies | Series: Paint Pad Poster Book Ser.
Whether a complete beginner, colorist looking for a new challenge or budding artist this oversized (11x17") step-by-step guide with pull-out pre-drawn watercolor paper and posters will have you producing great art to amaze yourself and your friends alike.   Have you always wanted to paint but think yo u don't have the skills or the time? Think again and paint side-by-side award-winning artist's work and create beautiful large painting of your own. In this brand new series, learn how to paint five beloved flowers: a vibrant bouquet of sunflowers, a field of poppies, a vase of tulips, a garden of roses or a bed of irises. Sized at 11x17" to-scale posters of the finished paintings can be framed or used as a reference, or use the watercolor paper outlines to either recreate or develop and paint your own stunning still life.   Follow the large, clear step-by-step instructions included for each flower, breaking down how to paint each section into manageable parts. Enjoy the freedom of pulling out these pages too, which you can then pin your work surface, for an even more effortless adventure.   With finished artwork, step-by-step instructions and ready to paint outlines let this innovative title lead you into producing beautiful, frameable watercolor flower portraits to amaze you and your friends. Guaranteed. ...Show more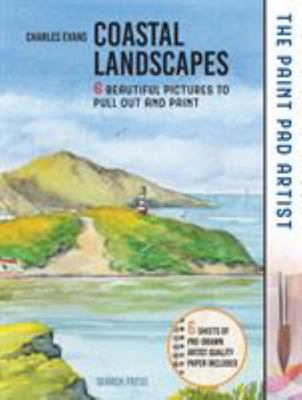 $19.99
NZD
$39.99
(50% off)
Category: Crafts & Hobbies | Series: Paint Pad Artist Ser.
'This new series from Search Press is simply brilliant and brilliantly simple. Take one look and you'll get it immediately. I just love them.' Henry Malt, Paint Magazine   Use the pre-printed outlines on the watercolour paper provided to create six beautiful coastal landscapes from within the UK and E urope - and learn all the skills you need to become an accomplished artist.   This inspiring book on painting coastal landscapes is part of the exciting and innovative Paint Pad Artist series. Whether a beginner or more experienced artist, you will be amazed at how quickly you will acquire the skills needed to produce beautiful paintings, and with the initial outlines for the six stunning projects provided on watercolour paper, you can start creating amazing works of art straight away.   Written by professional artist, Charles Evans, this guide begins with notes on how to use the pre-printed watercolour paper to achieve the best results, and how to make copies of the outlines should you want to attempt the projects again. Following this there is a short 'what you need' section, enabling you to gather together the paints, brushes and basic equipment required to start painting, and some brief guidance on general techniques such as how to hold the brush, how to add water to your paint and how to mix the colours, plus how to capture reflections on the water, and shadows on the land. The six stunning step-by-step projects that follow build in difficulty as you work through the book, introducing new techniques as they are used and incorporating numerous handy hints and tips from expert artist and instructor Charles Evans, to help you progress on your painting journey.   The six sheets of watercolour paper are pre-printed with the initial outline drawing for each of the projects, enabling you to start painting straight away and giving you the best possible chance of achieving a successful painting. ...Show more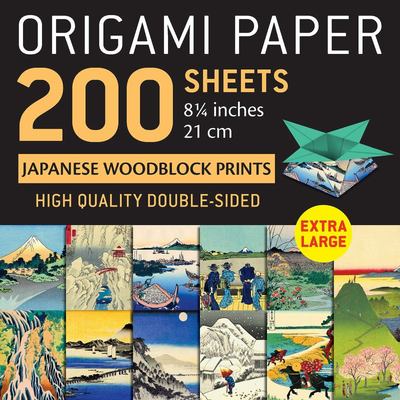 $27.99
NZD
Category: Crafts & Hobbies
This pack contains 200 high-quality origami sheets printed with beautiful and inspiring Japanese woodblock prints. These colorful origami papers were developed to enhance the creative work of origami artists and paper crafters. The pack contains 12 unique designs, and all of the papers are printed with coordinating colors on the reverse to provide aesthetically pleasing combinations in origami models that show both the front and back. This origami paper pack includes: 200 sheets of high-quality origami paper 12 unique designs Bright, vibrant colors Double-sided color 8.25 x 8.25 inch (21 cm) squares Step-by-step instructions for 6 easy-to-fold origami projects The woodblock prints in this paper pack are from famed ukiyo-e artists Hokusai and Hiroshige. Hokusai is best known for The Great Wave off Kanagawa (1830-32), while Hiroshige became famous for his series of prints The 53 Stations of the Tokaido (1832-1833). ...Show more
$19.99
NZD
$39.99
(50% off)
Category: Crafts & Hobbies | Series: Paint Pad Artist Ser.
Follow the step-by-step book and use the pre-printed outlines on the watercolor paper to create six beautiful flower paintings, and learn all the skills you need to become an accomplished artist.   This inspiring watercolour flowers book is the second title in the exciting and innovative Paint Pad Art ist series. Beginners as well as more experienced artists will be amazed at how quickly they acquire the skills they need to produce beautiful paintings, and with the initial outlines for the six stunning projects provided on high quality watercolour paper, they can start creating amazing works of art straight away.   Written by professional artist and tutor Julie King, the book begins with notes on how to use the pre-printed watercolour paper to achieve the best results, and how to make copies of the outlines should you want to try out the projects again.   Following this there is a short 'what you need' section, enabling you to gather together the paints, brushes and basic equipment you need before you start painting, and some brief guidance on general techniques such as how to hold the brush, how to add water to your paint and how to mix colour, plus how to frame and display your work.   The six stunning step-by-step projects that follow build in difficulty as you work through the book, introducing new techniques as they are used and incorporating numerous handy hints and tips from the author herself to help you progress on your painting journey.   The six sheets of artist-quality watercolour paper are pre-printed with the initial outline drawing for each of the projects, enabling you to start painting straight away and giving you the best possible chance of achieving a successful painting. ...Show more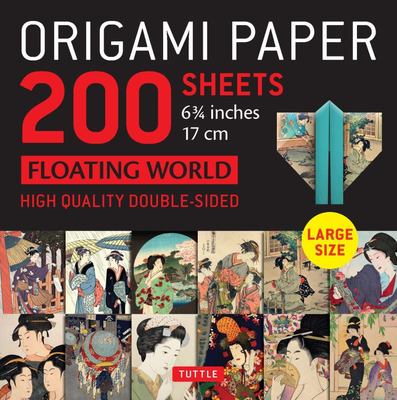 $21.99
NZD
Category: Crafts & Hobbies
This pack contains 200 high-quality large (6.75 inch) origami sheets printed with traditional Floating World prints. These vibrant origami papers were developed to enhance the creative work of origami artists and paper crafters. This paper pack contains 12 prints, and all of the papers have coordinating colors on the reverse side to provide aesthetically pleasing combinations in origami models that show both the front and back. "Floating World" refers to Japan's traditional Geisha districts and the art and literary worlds associated with them. This origami paper pack includes: 200 sheets of high-quality origami paper12 unique designsSaturated colorsDouble-sided color6.75 x 6.75 inch (17 cm) squaresStep-by-step instructions for 6 easy-to-fold origami projects ...Show more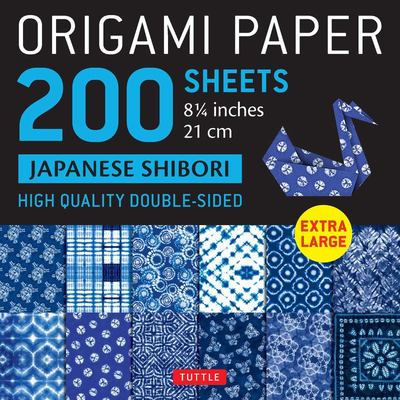 $27.99
NZD
Category: Crafts & Hobbies
This pack contains 200 extra large (8.25 inch) origami sheets printed with indigo shibori designs. Shibori is a hand-dyeing technique from Japan that typically involves folding, twisting or bunching cloth to create a unique pattern--sort of like an ancient form of tie-dye. These colorful origami papers were developed to enhance the creative work of origami artists and paper crafters. The pack contains 12 unique designs, and all of the papers are printed with coordinating colors on the reverse to provide aesthetically pleasing combinations in origami models that show both the front and back. This origami paper pack includes: 200 sheets of high-quality origami paper12 unique designsVibrant and bright colorsDouble-sided color8.25 x 8.25 inch (21 cm) squaresStep-by-step instructions for 6 easy-to-fold origami projectsLarger origami sheets, like these, produce museum-sized models and are recommended for more experienced folders. ...Show more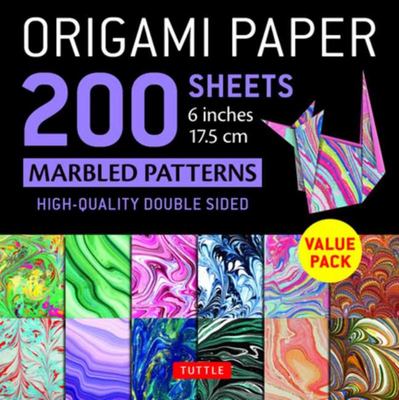 $14.99
NZD
Category: Crafts & Hobbies
This pack contains 200 high-quality origami sheets printed with elegant marbled patterns. These colorful origami papers were developed to enhance the creative work of origami artists and paper crafters. The pack contains 12 unique patterns, and all of the papers are printed with coordinating colors on the reverse to provide aesthetically pleasing combinations in origami models that show both the front and back. This origami paper pack includes: 200 sheets of high-quality origami paper 12 unique patterns Vibrant and bright colors Double-sided color 6 x 6 inch (15 cm) squares Step-by-step instructions for 6 easy-to-fold origami projects ...Show more

$37.00
NZD
Category: Crafts & Hobbies
Create the cutest versions of your favorite dogs in just a few simple steps   Whether you adore dachshunds or dalmatians, you'll be surprised at how easy it is to make charming miniatures of them with a felting needle and some raw wool. Great for beginners, the two dozen projects in Little Felted Dogs p rovide surprisingly life-like results--choose from a litter of golden retriever puppies, a pug ready to fetch, a begging bulldog, a protective chihuahua, and more. Even better, you'll go from ball of fluff to perfect pooch in no time at all! ...Show more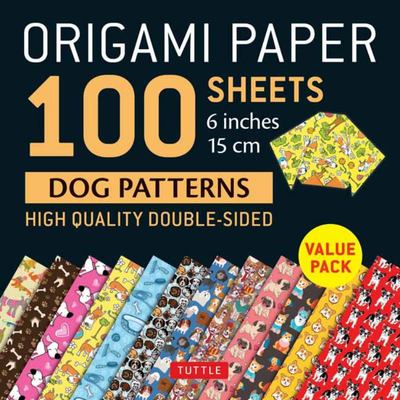 $9.99
NZD
Category: Crafts & Hobbies
This pack contains 100 high-quality origami sheets printed with colorful and attractive Dog Designs.   These illustrations were chosen to enhance the creative work of origami artists and paper crafters. The pack contains 12 patterns unique to this pack, and all of the papers are printed in coordinati ng colors on the reverse to provide aesthetically pleasing combinations in origami models that show both the front and back of the papers.   A booklet in the pack provides instructions for: Crane Samurai Helmet Kimono Star Box Japanese Lantern Dog ...Show more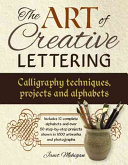 $34.99
NZD
Category: Crafts & Hobbies
This expertly presented volume covers all aspects of the art of 'beautiful writing', setting out the essential tools needed, teaching all the basic strokes to form letters, and providing a rich variety of templates to work from. A dozen alphabets are illustrated, showing pen angles, strokes and common g roup structures, along with a section on using a computer to create digital calligraphy. The projects offer practical ideas for using calligraphy in all kinds of ways, explaining techniques such as embossing, gilding and bookbinding. With an inspirational gallery of examples and clear step-by-step guidance, this manual is perfect for both beginners and experienced calligraphers. ...Show more
$32.99
NZD
Category: Crafts & Hobbies
Sweaters are a fashion staple. Versatile, cosy and often the item you treasure and never tire of, they can be worn all-year round, under a coat in the winter or as an extra layer on a chilly night during the summer.   In this fresh and modern guide to knitting, Emma Wright will show you how to create yo ur own stylish sweater collection. Starting with the basics, learn how to knit three key silhouettes: square, raglan and set-in-sleeve. Once you have mastered these core shapes, the possibilities are endless. Emma's playful approach will show you how to confidently mix-and-match a variety of necklines, sleeves and bold colourways to add your own creative flair.     Packed with stunning lifestyle photography, this book will take you through all the essentials as you learn to make up the 15 beautiful designs. Through Emma's clear instructions and expert tips, KIY: Knit-It-Yourself will show you how to enter the wonderful world of knitting, whether you are new to the craft or already have a couple of projects under your belt. ...Show more