$38.00
NZD
Category: True Crime
This is the story of a mass-murder that divided a nation. It's a story that began in a rickety old home on a cold June morning in 1994, where five members of a seemingly ordinary New Zealand family were gunned down. There were two suspects. One lay dead from a single bullet to the head. The other was th e only survivor- David Bain. Since then the country has asked- Who killed the Bain family? David, or his father Robin? And why? Award-winning journalist Martin van Beynen has covered the Bain story closely for decades. His 2017 Stuff podcast, Black Hands - based on the manuscript for this book - was a runaway success in New Zealand and overseas, downloaded more than 4 million times and topping the charts in New Zealand and around the world. Now, van Beynen brings the story up to date for 2020, exploring the case from start to finish, picking through evidence old and new, plumbing the mysteries and motives, interviewing never-before-spoken-to witnesses and laying out the complex police investigation and judicial processes, seeking to finally answer the question- Who was the killer? Black Hands is a riveting read from the first word to the last, by a skilled writer who knows his subject inside out. "If anyone can pass judgement it can only be those who sat through the whole trial." - David Bain in New Idea ...Show more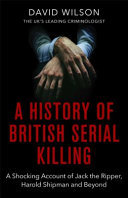 $27.99
NZD
Category: True Crime
Expanded and updated, this is the definitive history of British serial killing 1888-2020 - by the UK's leading expert, David Wilson In this fascinating and informative book, Professor David Wilson tells the stories of Britain's serial killers from Jack the Ripper to the extraordinary Suffolk Murders ca se. David Wilson has worked as a Prison Governor and as a profiler, and has been described as the UK's leading expert on serial killers. His work has led him to meet several of the UK's deadliest killers, and build up fascinating insights into what makes a serial killer - and who they are most likely to target. A vivid narrative history and a call for prison and social reform, Professor Wilson's new book is a powerful and gripping investigation of Britain's serial murderers. ...Show more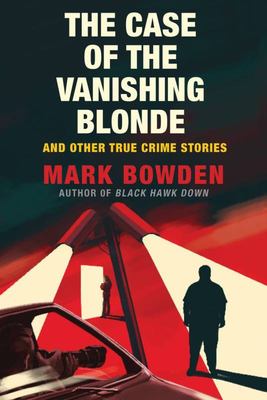 $32.99
NZD
Category: True Crime
From Mark Bowden, a 'master of narrative journalism' (New York Times), comes a true crime collection both deeply chilling and impossible to put down.
$37.00
NZD
Category: True Crime
In 1907, Perth woman Alice Mitchell was arrested for the murder of five-month-old Ethel Booth. During the inquest and subsequent trial, the state's citizens were horrified to learn that at least 37 infants had died in Mitchell's care in the previous six years. It became clear that she had been running a 'baby farm', making a profit out of caring for the children of single mothers and other 'unfortunate women'.The Alice Mitchell murder trial gripped the city of Perth and the nation. This book retraces this infamous 'baby farm' tragedy, which led to legislative changes to protect children's welfare. ...Show more
$36.99
NZD
Category: True Crime
New Zealand's underworld of organised crime and deadly gangs New Zealand is now one of the most lucrative illicit drug markets in the world. Organised crime is about making money. It's a business. But over the past 20 years, the dealers have graduated from motorcycle gangs to Asian crime syndicates and now the most dangerous drug lords in the world - the Mexican cartels. In Gangland, award-winning investigative reporter Jared Savage shines a light into New Zealand's rising underworld of organised crime and violent gangs. The brutal execution of a husband-and-wife; the undercover cop who infiltrated a casino VIP lounge; the midnight fishing trip which led to the country's biggest cocaine bust; the gangster who shot his best friend in a motorcycle shop: these stories go behind the headlines and open the door to an invisible world - a world where millions of dollars are made, life is cheap, and allegiances change like the flick of a switch. ...Show more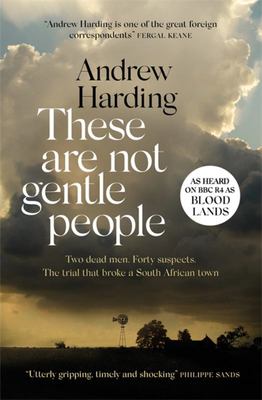 $37.99
NZD
Category: True Crime
Land. Race. Murder. Betrayal. The true story of a case that broke a South African town - by BBC Africa Correspondent "A smartly paced true-crime thriller with a vivid cast of characters . . . as tense as it is disturbing" JOHN CARLIN, author of Playing the Enemy: Nelson Mandela and the Game That Made a Nation "Look what the fucking dogs did to them, someone muttered. No-one mentioned the rope, or the monkey-wrench, or the gun, or the knife, or the stick, or the whip, or the blood-stained boots. In fact, no-one said much at all. It seemed simpler that way. There was no sense in pointing fingers.'" At dusk, on a warm evening in 2016, a group of forty men gathered in the corner of a dusty field on a farm outside Parys in the Free State. Some were in fury. Others treated the whole thing as a joke - a game. The events of the next two hours would come to haunt them all. They would rip families apart, prompt suicide attempts, breakdowns, divorce, bankruptcy, threats of violent revenge and acts of unforgivable treachery. These Are Not Gentle People is the story of that night, and of what happened next. It's a murder story, a courtroom drama, a profound exploration of collective guilt and individual justice, and a fast-paced literary thriller. Award-winning foreign correspondent and author Andrew Harding traces the impact of one moment of collective barbarism on a fragile community - exploding lies, cover-ups, political meddling and betrayals, and revealing the inner lives of those involved with extraordinary clarity. The book is also a mesmerising examination of a small town trying to cope with a trauma that threatens to tear it in two - as such, it is as much a journey into the heart of modern South Africa as it is a gripping tale of crime, punishment and redemption. When a whole community is on trial, who pays the price? ...Show more
Pure Narco
by Jesse Fink; Luis Navia
$40.00
NZD
Category: True Crime
It's a life story that reads like something out of a John Grisham or Elmore Leonard novel that it's remarkable it has remained untold for so long. Careers in the cocaine-trafficking business are usually short. It's not only a dangerous profession, fraught with the possibility of capture and long jail se ntences, but it can be deadly if the cartels get to you first. Not for Luis Antonio Navia. For 25 years the Cuban-American smuggled hundreds of tons of white powder for the biggest cartels in Colombia and Mexico, including Pablo Escobar's Medellin Cartel. In a profession populated by thugs, Navia's dress sense and good manners earned him the nickname 'El Senador' (The Senator). He refused to carry a weapon. What made him good at his job was amassing trusted contacts, losing very few shipments of coke, and keeping a low profile. He also maintained a normal family life with a Colombian wife and two young children. But he was never far removed from the most brutal violence imaginable. One friend got his head cut off. Another was hit over the head, put in a 55-gallon drum full of cement and dumped in a canal. Navia himself was kidnapped three times and went close to being fed alive to crocodiles. Somehow through it all he managed to survive and spent two decades fooling the DEA and other law-enforcement agencies. That was until he came under the radar of Robert Harley, a tenacious US Customs special agent in Key West, Florida, who was determined to bring him to justice. What followed was an international game of cat-and-mouse that culminated in Navia's 2000 arrest in Venezuela in one of the biggest antinarcotics takedowns of all time, the 12-nation Operation Journey. Spanning decades, continents and featuring a who's who of the drug trade, Pure Narco is a fast-paced adventure ride into the dark underworld of cocaine trafficking, written with the cooperation of a dozen law-enforcement agents from the world's top antinarcotics forces in the United States and Great Britain. It also contains insider insights into how the global drug business operates and offers some cogent solutions to the never-ending 'war on drugs'. Navia served his time in jail and is now free to tell his tale. His is the rare perspective of someone who has worked on both sides of that war- as a cocaine trafficker and US Government consultant. This book is a redemption story. Luis Navia, the pure narco, has gone full circle. ...Show more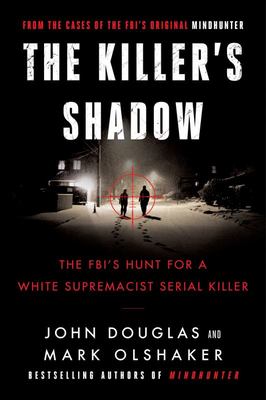 $32.99
NZD
Category: True Crime | Series: Cases of the FBI's Original Mindhunter Ser.
The legendary FBI criminal profiler and international bestselling author of Mindhunter and The Killer Across the Table returns with this timely, relevant book that goes to the heart of extremism and domestic terrorism, examining in-depth his chilling pursuit of, and eventual prison confrontation with Jo seph Paul Franklin, a White Nationalist serial killer and one of the most disturbing psychopaths he has ever encountered.Worshippers stream out of an Midwestern synagogue after sabbath services, unaware that only a hundred yards away, an expert marksman and avowed racist, antisemite and member of the Ku Klux Klan, patiently awaits, his hunting rifle at the ready. The October 8, 1977 shooting was a forerunner to the tragedies and divisiveness that plague us today. John Douglas, the FBI's pioneering, first full-time criminal profiler, hunted the shooter--a white supremacist named Joseph Paul Franklin, whose Nazi-inspired beliefs propelled a three-year reign of terror across the United States, targeting African Americans, Jews, and interracial couples. In addition, Franklin bombed the home of Jewish leader Morris Amitay, shot and paralyzed Hustler magazine publisher Larry Flynt, and seriously wounded civil rights leader Vernon Jordan. The fugitive supported his murderous spree robbing banks in five states, from Georgia to Ohio. Douglas and his writing partner Mark Olshaker return to this disturbing case that reached the highest levels of the Bureau, which was fearful Franklin would become a presidential assassin--and haunted him for years to come as the threat of copycat domestic terrorist killers increasingly became a reality. Detailing the dogged pursuit of Franklin that employed profiling, psychology and meticulous detective work, Douglas and Olshaker relate how the case was a make-or-break test for the still-experimental behavioral science unit and revealed a new type of, determined, mission-driven serial killer whose only motivation was hate. A riveting, cautionary tale rooted in history that continues to echo today, The Killer's Shadow is a terrifying and essential exploration of the criminal personality in the vile grip of extremism and what happens when rage-filled speech evolves into deadly action and hatred of the "other is allowed full reign. The Killer's Shadow includes an 8-page color photo insert. ...Show more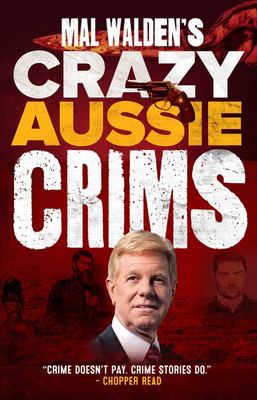 $28.99
NZD
Category: True Crime
We are fascinated by true crime stories. Psychologists say one of the main reasons for our obsession is that it gives us an opportunity to feel relieved when we discover someone else is the victim! But while living in a world of rapid social, political, economic, and technological change, true crime ca n also provide us with comfort and reassurance when we discover 'good overcomes evil' and that 'crime really does NOT pay'. In this collection of Crazy Aussie Crims, some of whom Mal Walden has met personally, the reader is taken on a journey of discovery of some of Australia's most notorious, and bumbling, criminals.   ...Show more
$24.00
NZD
Category: True Crime
Polly, Annie, Elizabeth, Catherine and Mary-Jane are famous for the same thing, though they never met. They came from Fleet Street, Knightsbridge, Wolverhampton, Sweden and Wales. They wrote ballads, ran coffee houses, lived on country estates, they breathed ink-dust from printing presses and escaped pe ople-traffickers. What they had in common was the year of their murders- 1888. Their murderer was never identified, but the name created for him by the press has become far more famous than any of these five women. Now, in this devastating narrative of five lives, historian Hallie Rubenhold finally sets the record straight, and gives these women back their stories. __________________ 'At last, the Ripper's victims get a voice... An eloquent, stirring challenge to reject the prevailing Ripper myth.' MAIL ON SUNDAY 'Devastatingly good. The Five will leave you in tears, of pity and of rage.' LUCY WORSLEY 'Dignity is finally returned to these unfortunate women.' PROFESSOR DAME SUE BLACK 'Haunting' SUNDAY TIMES 'What a brilliant and necessary book' JO BAKER, author of Longbourn 'Beautifully written and with the grip of a thriller, it will open your eyes and break your heart.' ERIN KELLY, 'An outstanding work of history-from-below ... magnificent' THE SPECTATOR ...Show more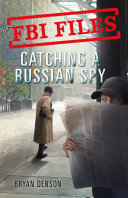 $14.99
NZD
Category: True Crime | Series: FBI Files Ser.
In Catching a Russian Spy, Bryan Denson presents the story of the FBI's investigation of Aldrich Ames, and brings to life Agent Les Wiser, Jr., the agent who helped bring him to justice. Aldrich H. "Rick" Ames was a 31-year veteran of the CIA. He was also a Russian spy. By the time Ames was arrested in 1994, he had betrayed the identities of dozens and caused the deaths of ten agents. The notorious KGB (and later the Russian intelligence service, SVR) paid him millions of dollars. Agent Leslie G. "Les" Wiser, Jr. ran the FBI's Nightmover investigation tasked with uncovering a mole in the CIA. The team worked night and day to collect evidence--sneaking into Ames' home, hiding a homing beacon in his Jaguar, and installing a video camera above his desk. But the spy kept one step ahead, even after agents followed him to Bogota, Colombia. In a crazy twist, the FBI would score its biggest clue from inside Ames' garbage can. At the time of his arrest on February 21, 1994, he had compromised more highly-classified CIA assets than any other agent in history. First in the FBI Files, a true-crime series for middle grade readers that follows FBI agents behind the scenes as they work to keep Americans safe. ...Show more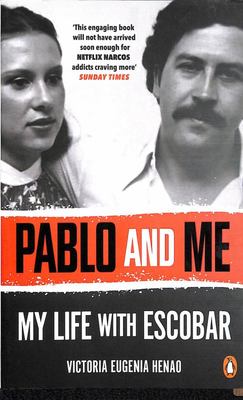 Pablo and Me
by Victoria Eugenia Henao; Andrea Rosenberg (Translator)
$26.00
NZD
Category: True Crime
**A Sunday Times Book of the Year** The closest you'll ever get to the most infamous drug kingpin in modern history, told by the person who stood by his side The story of Pablo Escobar, one of the wealthiest, powerful and violent criminals of all time has fascinated the world. Yet the one person close st to him has never spoken out - until now. Maria Victoria Henao met Pablo when she was 13, eloped with him at 15, and despite his numerous infidelities and violence, stayed by his side for the following 16 years until his death. At the same time, she urged him to make peace with his enemies and managed to negotiate her and her children's freedom after Pablo's demise. The most intriguing character in the Escobar narrative is ready to share her story and reveal the real man behind the legend. ...Show more